Batch #7 (DC04) has arrived and is great! New reduced prices for shells, demo videos for batch#6 and #7. Reduced price bottoms with minor damage.
November 2018
In this newsletter you will learn about our new batch #7 that is available now and the upcoming batch #8. We also added demo videos of batch #6 and batch #7 to this email. Furthermore we have a new pricing system that makes a bit more sense with slightly or majorly reduced prices depending on your location. Finally we also have some batch #6 bottoms that have minor imperfections at the neck for a discounted price and we will let you know what our current stock is like.
Batch#7
We have completed testing two instruments made from batch#7 (DC04) and we are quite happy with the results! The notes turned out to be strong, sound "full" and have a good sustain. In the last email we talked about batch#7 being the remake of batch#4, this is not the case however. The supposed to be batch#7 was delayed and thus we had to order another batch of steel through our regular routes. Therefore the proposed remake of batch#4 will become batch#8 and batch#7 is thus a regular DC04 type steel.
Batch#6
Batch#6 has been out for a while, however we never got to make a video of it and present it to you. Batch#6 is a good quality DC04 type steel. We have a little stock left of both raw and nitrided material of this batch.
New pricing system
We have decided to change the pricing system to being without VAT (Value Added Tax). What does this mean for you?
If you are located inside the EU this action will not affect you that much, mostly you will get a few cents discount on shells compared to earlier prices because we rounded all the prices down. For orders inside of the European Union we have to charge 21% VAT unless you have a valid VAT number. The VAT number needs to be verifiable for us at the website of the European Commision. If you have a valid VAT number and have not yet let us know, you can give us your VAT number and you will not have to pay VAT any longer.
If you are living outside of the EU you are getting a 21% discount compared to the price we charged you previously. As for orders outside of the EU we will now simply offer you the new prices excluding VAT.
New prices of orders under a 100 shells:
Raw top shell €37
Raw bottom shell €56
Nitrided top shell €62
Nitrided bottom shell €81
New prices of orders under above a 100 shells:
Raw top shell €31
Raw bottom shell €50
Nitrided top shell €56
Nitrided bottom shell €75
Discounted bottoms
From all the bottoms that we produce a certain percentage of the neck cracks on the part of the collar that is rolled inwards. We always take out these bottoms when the crack can be felt when you would grab the instrument after glueing. Now that we have made quite some bottoms, we are left with around 40 shells with this problem from batch#6, 6 pieces from batch#5 and 4 from batch#2 . We have nitrided all of them. The new regular price for nitrided bottoms is €81, for these bottoms we will give a €10 discount and thus they will be €71 each excl. possible VAT charges. See the picture below to get an impression of what the damage is like.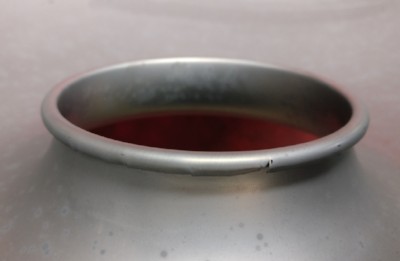 What's on stock now? And when is batch #8 coming?
We have on stock now:
A small number of nitrided batch#5 tops
Relatively small number of batch#6 shells, all types.
All types of batch#7 shells
We are receiving a limited number of batch#8 shells in the coming weeks. First we will need to test them and once we have tested them we will send out a demo video for you to hear.
This concludes this newsletter. If you have any questions or wish to make an order, you can directly reply to this email and let us know.
Yours sincerely,
Roy van den Bor and the rest of the Ayasa team