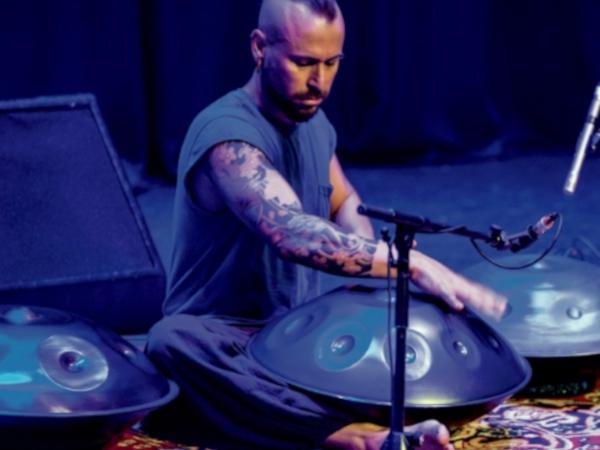 Meet Adrian
---
Adrian J Portia is a professional drummer/percussionist based in Melbourne Australia. Adrian started playing the drums from the age of 10 and touring the country in his father's band at 12 years of age. Performing every week he gained a lot of experience in his younger years, which helped him become the musician he is today. At the age of 19 Adrian was runner up in Australia's best up and coming drummer competition, which led him to endorsement deals with premier drums, Sabian Cymbals and Vater drumsticks.
He has performed with many different artists, musicians and bands over the years and is still an in demand working musician, particularly in the Melbourne music scene. Adrian enjoys experimenting with different hand percussion and is continuing to explore world percussion instruments. His desire to play a handpan began when he first saw the original "hang" in 2008, although it wasn't until august 2013 that he received his first handpan. In this short time Adrian has been recognized internationally as one of the leading players and educators on the instrument and has been travelling all over the world performing and teaching. he is widely known for his speed, control and command over the instrument and has been given the nickname "the hummingbird"
Adrian's debut album "life in color" was released in august 2015. Recent collaborations include famous Indian flutist Ranu Majumdar. pianist, composer and Bollywood producer Santosh Mulekar, film score producer Adam Hochstatter and world-renowned bass player Janek Gwizdala. Having his own unique, versatile, percussive and melodic style and sound, Adrian is dedicated to continue to develop in the craft of playing this amazing new instrument.
To learn more about Adrian, please see Website / Youtube / Facebook / Instagram / Soundcloud / Bandcamp
"What I love about the Ayasa is ease of playability, they are very responsive with beautiful sustain and consistency in sound. Perfect for live performances and they record wonderfully. The dedicated team at Ayasa are making professional quality instruments and it's a pleasure to be part of the family."
---
Ayasa Iddha C# Pygmy 8 - Adrian J Portia