Tools and Supplies
Besides handpan shells we also offer a variety of products and tools that can assist you in your handpan building process. We offer tuning rings, hammers, a tuning stick, muting magnets, Merbenit glue, Phoenix oil and Scotchbrite.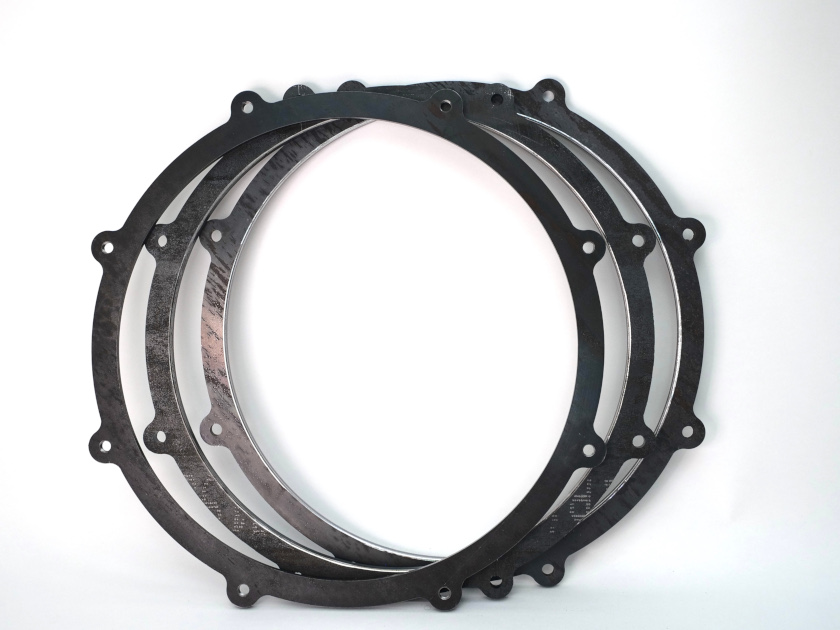 Tuning Rings
This set of tuning rings works perfectly with our shells. The inner diameter is 530mm. The bolts and thread are M14 and hardenend.
Each set of rings includes.
Thick top ring (15mm)
Thin top ring (10mm)
Bottom ring (10mm)
Set of eight bolts M14, 25mm
Set of eight bolts M14, 20mm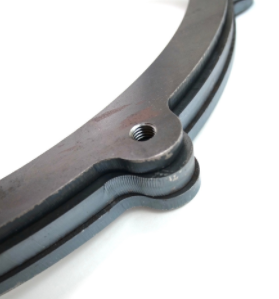 The reason why we use a set of three rings is that every combination of rings will cause frequencies that will be picked up by your tuning software and can make tuning some notes quite difficult. Mostly we use the combination of the thick top ring and the bottom ring. Whenever we encounter a note that is difficult to read we switch to the other top ring. For example, the main problem frequencies with this combination are the B4 are the F#3 and for the two thin rings the note that gives the most trouble is the A4.
The tuning rings are in our experience best to be used on a truck tire of the size 275/70R22.5. You might think that a truck tire is a bit old school and less advanced for a professional tuner… However here at Ayasa we have been tuning for 7 years with truck tires, and have tried out stands but the in the end the truck tire wins big time. Tuning with loose rings in a rubber truck tire has a couple of important advantages over tuning in a tuning stand:
Less metal is used, meaning that there are less 'ghost' frequencies that interfere with your readings on your tuning software
The inside of the tire functions as an acoustic chamber, increasing the resonance and volume, allowing for clearer readings on your tuning software.
Tuning in a truck tire means you have to tune standing; tuning standing is much better for your posture. Tip, if your body is hurting whilst tuning, change the height of the tire, finding the right height of the tire for your body is the key for prolonged hours (5 hours + a day) of tuning without pain.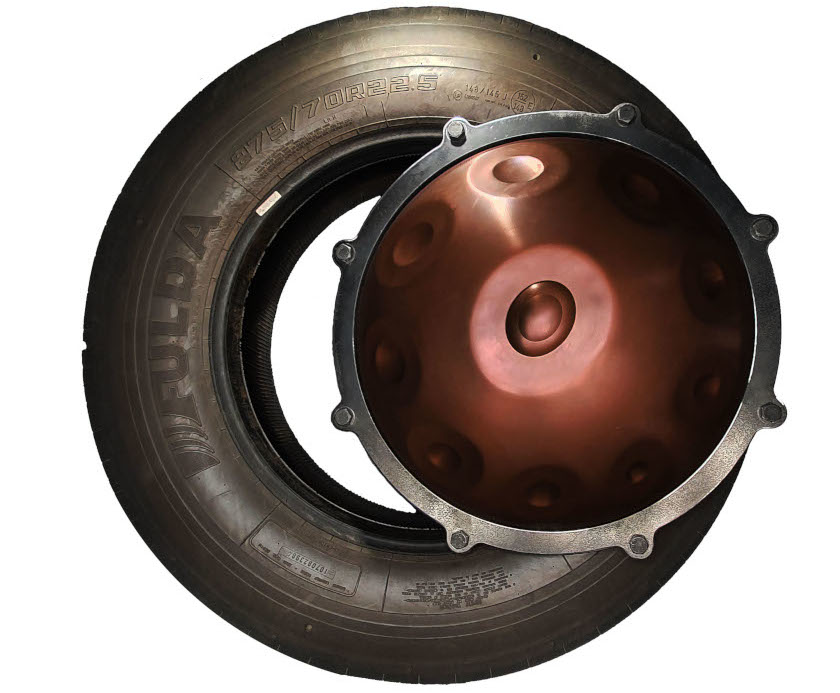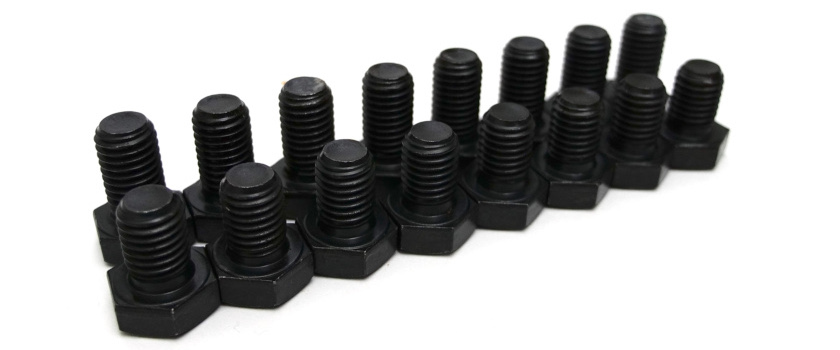 Make sure that before you use the rings you tap the threads and thread the bolts using professional tools in combination with cutting/drill oil for endurance of your rings and bolts. Before using tools to tighten the bolts, first turn them by hand, if the bolts get stuck make sure to tap and thread again.
Price of the full set is €300
Tuning Hammer
The main part is CNC made from stainless steel and has two 10mm threads to mount the hammer heads. The front and back hammer heads* are made out of nylon and are also CNC made. The handle is a 22mm stainless steel pipe and a rubber grip is slid over for a comfortable and durable grip.
€65 for a fully assembled hammer
* heads can wear out over time, we will add replacement parts to our maker shop later.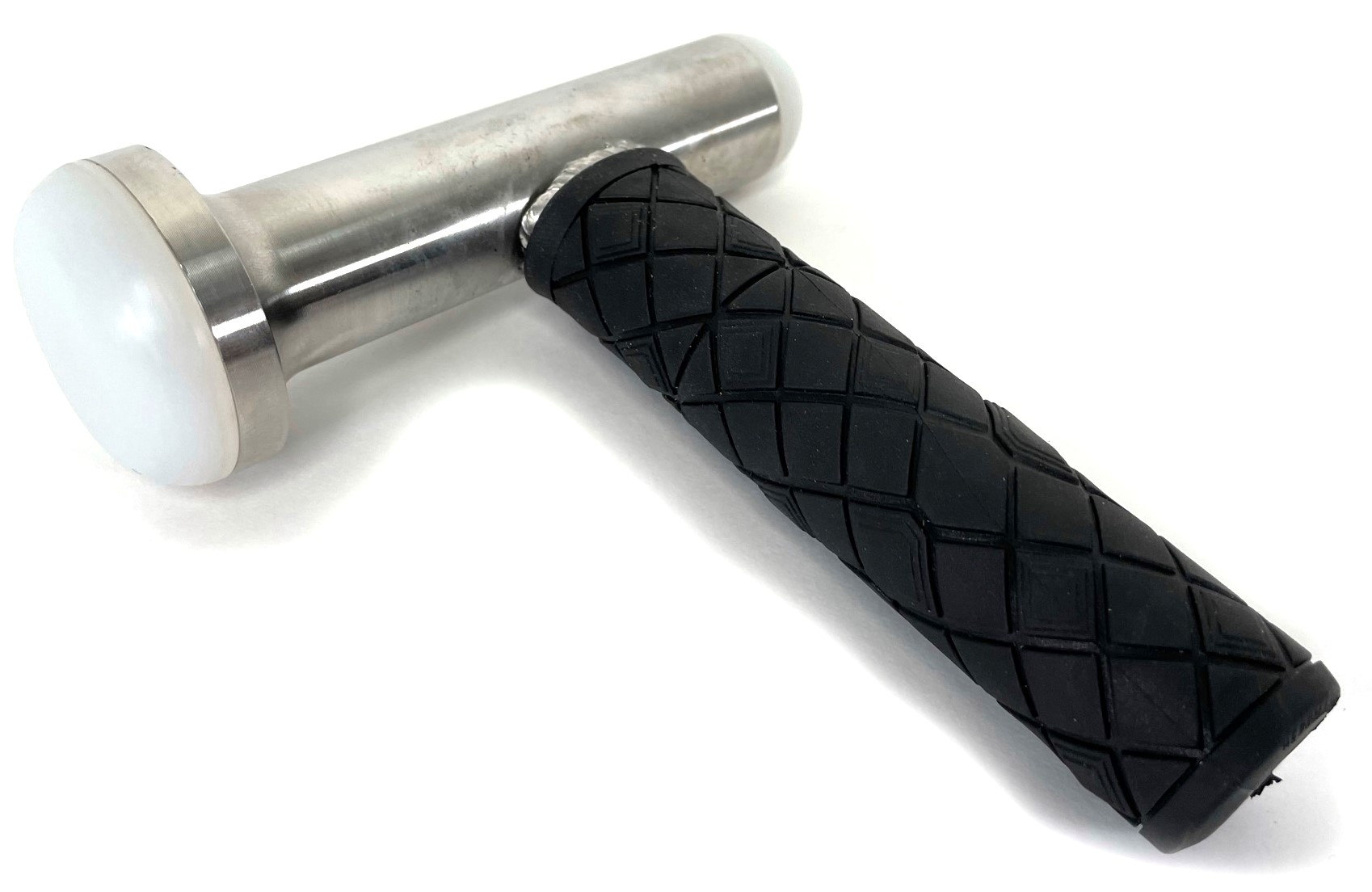 Taxi Hammer
This hammer is ideal for the purpose of loosening notes and for rough tuning. We mainly use the black rubber side of the hammer, as it loosens and tunes with making minimal dents in the notes. The yellow side can be useful in some situations but be wary of making scratches or dents, of course it's possible to use tape on this side.
Price of the Taxi Hammer is €20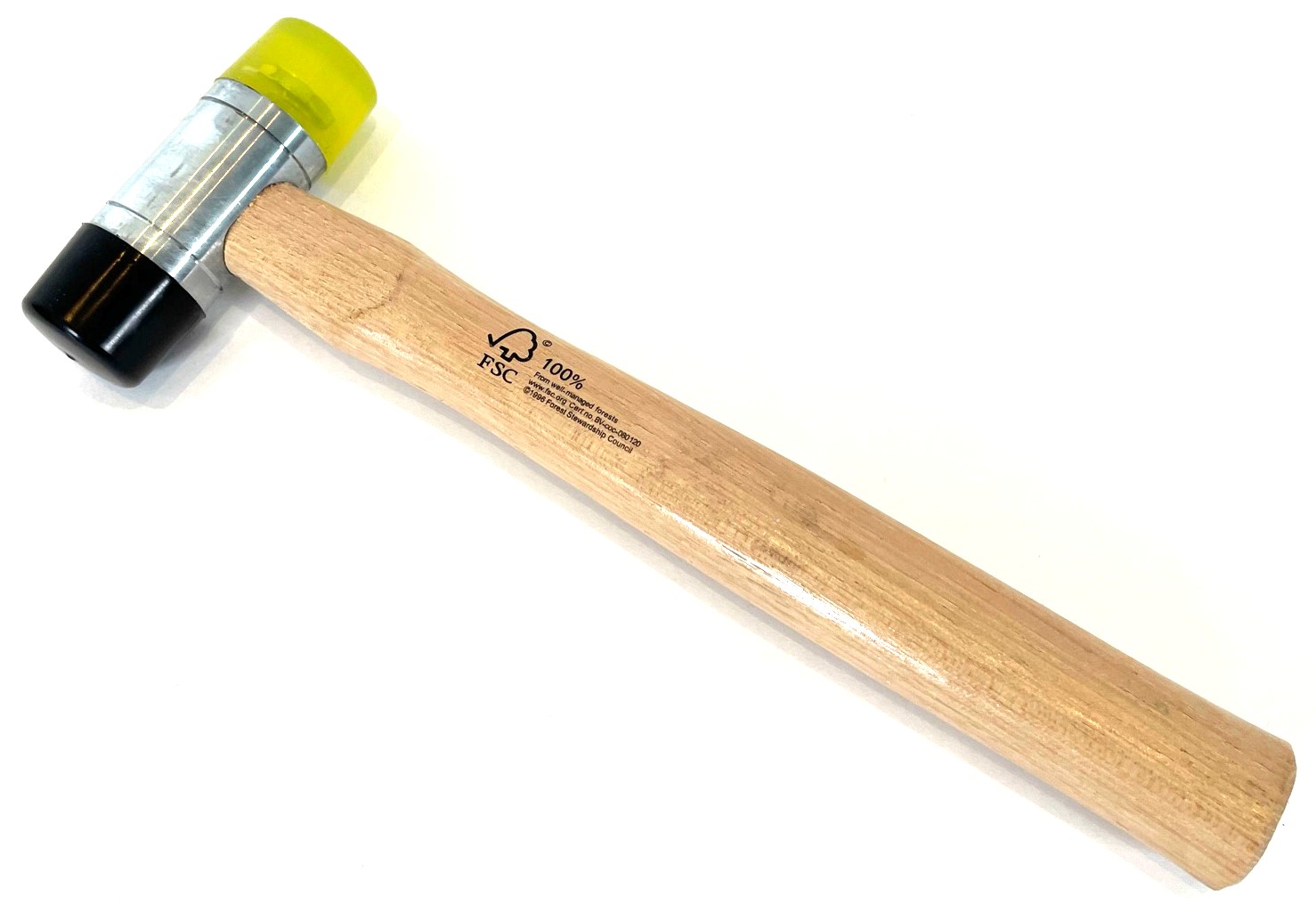 Tuning Stick
The tuning stick by Innovative Percussion is used to stabilize notes while tuning. A few hard strikes with the tuning stick will let your note go to its stabilized tuning. We modified the sticks by sliding a custom cut rubber square, with a hole in the center, over the stick. Now one of the most annoying feats of tuning sticks is solved, it won't roll off the table anymore!
The tuning Stick costs €20 excl. VAT. and always comes with our modification mounted on it.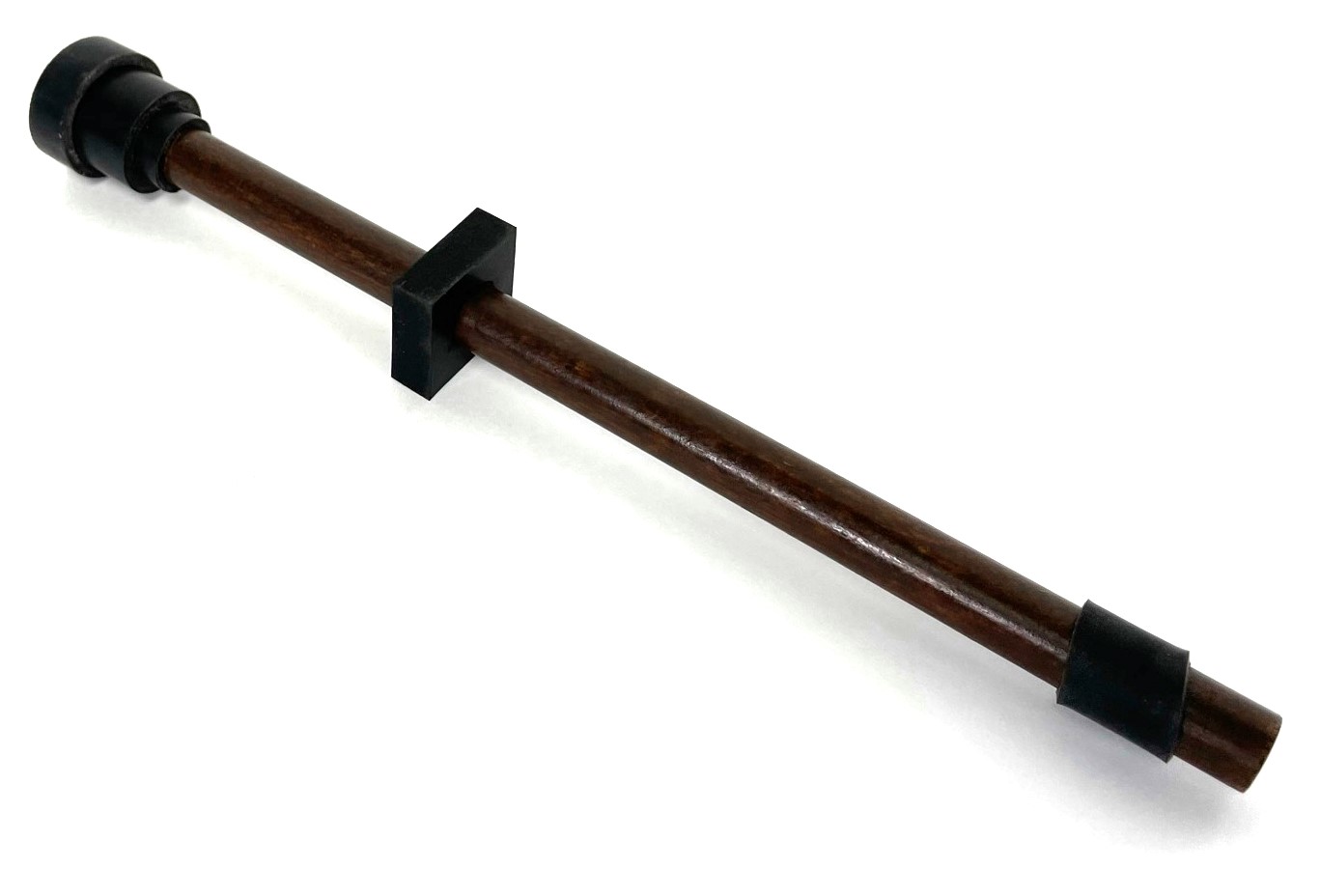 Tuning Magnets
These magnets are used for muting tonefields whilst tuning, so it's easy to focus on tuning the one tonefield you are working on. The magnets have big cut-outs in the middle so they can easily be placed on the inside of the shell, instead of on the outside of the shell, thus avoiding scratches to the surface of your instruments. The magnets have a rather big dimple cut-out to cover a range of around six to nine semitones so that you don't need to take a long time to search for the right size magnet. A set consists of several magnets of six different sizes, each size has a different color so that you can grab the right magnet in a blink of an eye!
The full set includes a total of 20 magnets as you can see in the picture above, the price is €50 excluding taxes and can now be ordered in combination with any shell order.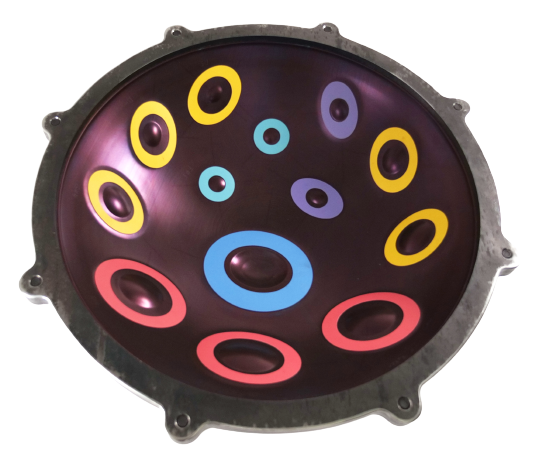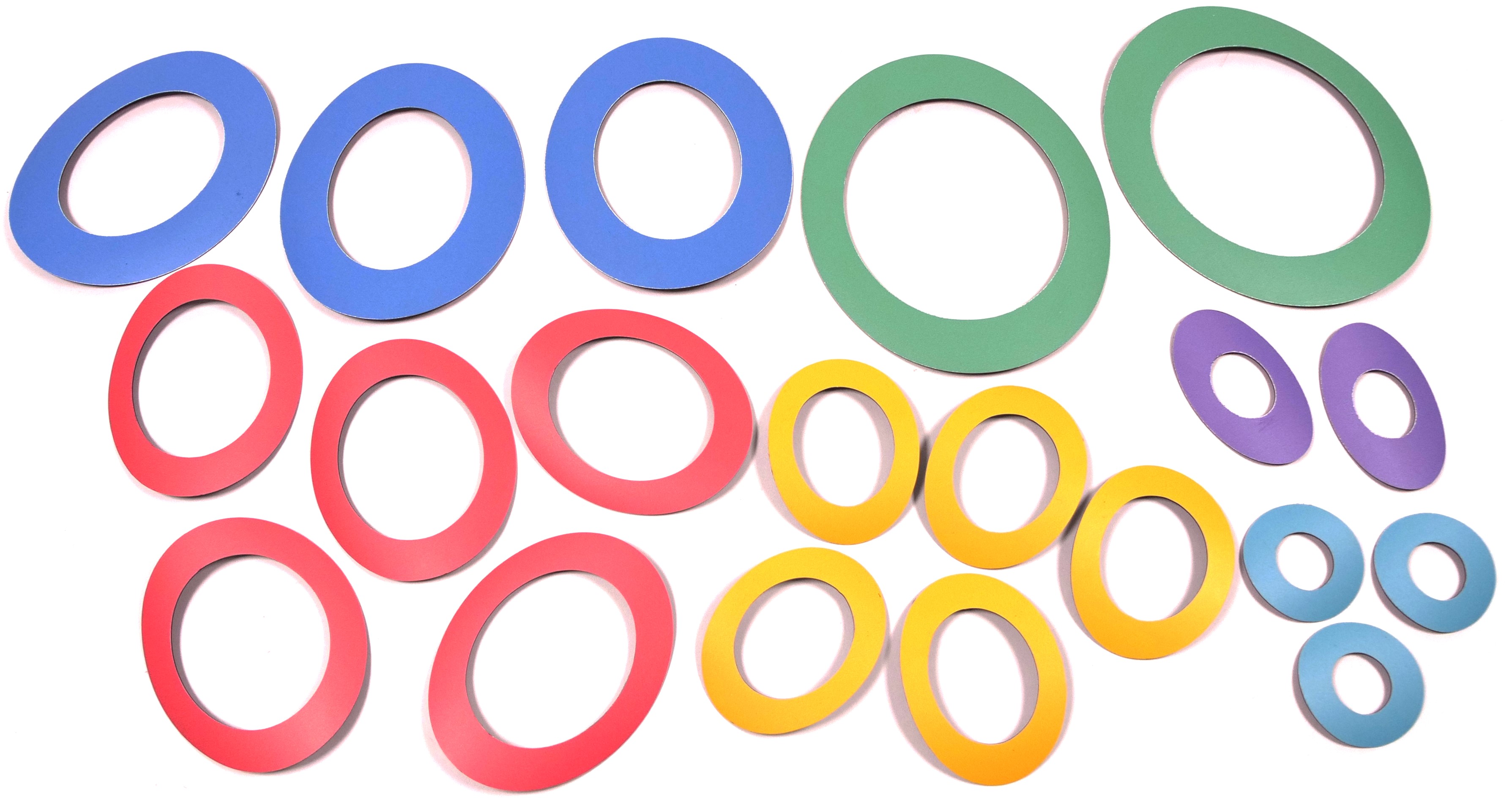 Merbenit HS60 Glue
Merbenit HS60 Glue has been used by makers for over 18 years and we do not know of any cases of which the glue has lost its grip. We have known of other glues used by handpan makers that have let go and needed a re-glueing. At Ayasa Instruments we are only using Merbenit glue since 2013 and we recommend it to any other maker.
Box of 12 tubes can be ordered seperately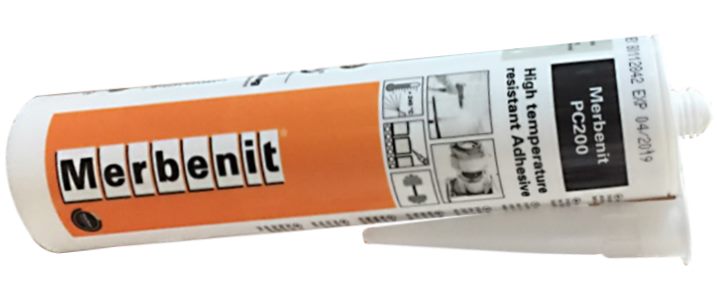 Phoenix Oil
Phoenix Oil has proved itself to offer the best rust protection without losing sustain. It is composed of 99,5% natural ingredients and has a fresh scent. We recommend to only ship out Phoenix oiled instruments to prevent rust on the way. We also recommend to give a bottle to each of your customers together with instructions to prevent having to repair rusted instruments that come back to your shop.
1x 100ml bottle: €12.39
10x 100ml bottle: €11
50x 100ml bottle: €10
1x 250ml bottle €23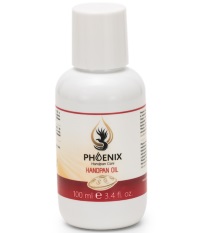 3M scotchbrite Ultrafine
In order to clean all the dirt, possible rust particles and greasy leftovers, we scrub the shells thoroughly with alcohol and 3M scotchbrite Ultrafine and then paper towels and alcohol before annealing to avoid any post annealing marks such as fingerprints. We do the same after trimming the flange and then we clean the instrument thoroughly with paper towels and alcohol until the papers stay white. Then it's time to apply the Phoenix oil.
Price per box of 20 scotchbrite handpads: €40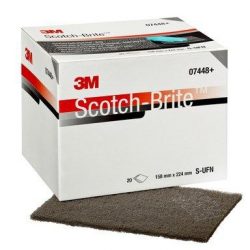 Prices
All the prices are quoted excluding VAT. If you are located in the EU and have a valid VAT number, or if you are located outside of the EU, we do not have to charge VAT (21%). Only when you are inside the EU and do not have a valid VAT number then you would have to pay 21% on top of the prices listed on this page.