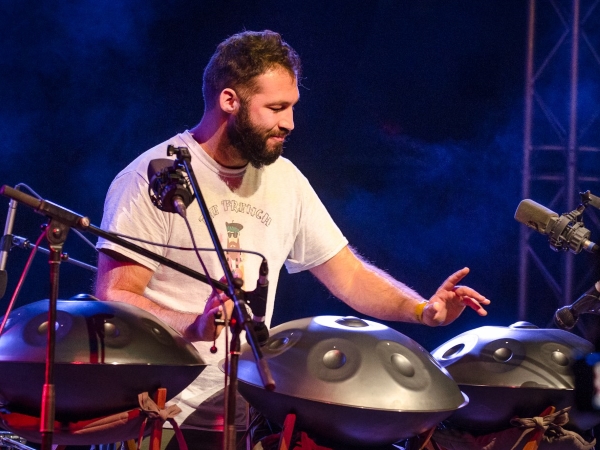 Meet David
---
David Charrier is a French multi-instrumentalist composer and performer. He has a strong musical background and began his musical journey 20 years ago. He is self-taught and has learned numerous different percussion instruments, including the udu, bongo, cajon, derbuka, and djembe. His style has always gone against the musical mainstream.
In 2004, he fell in love with a brand new instrument : the Hang, which was almost unknown at the time. David has spent hundred of hours playing, busking, composing, and exploring the magic of this "sound sculpture." As a handpan pioneer, he was the first French Hang player to broadcast his unique style and compositions on the Web. His videos have inspired a multitude of players around the world to pick up the handpan.
In 2007, his friend and cousin, Sylvain Paslier, got a Hang and together they created WADHOM, a band that married digeridoo, HangHang, and violin. About the same time, David and Sylvain collaborted as KEONA, a hang duet. Known thereafter as the "Hang Cousins," they became internationally known. One of their videos, Insomniac Jam, has over 4 millions views on YouTube.
After Keona, David continued to perform, record, and collaborate, in order to develop his own mastery of handpan. As the handpan community continue to grow, David discovered a calling to share his journey and experience with others. While teaching workshops in Europe and abroad, David decided to expand his reach to even more people.
In 2016, he created MasterTheHandpan.com, an online school with a unique learning method known to be fun and efficient. Embraced by the handpan community, his classes have enabled hundreds of students to enhance their skills and elevate their musical expression.
Whether it's working solo, in a duet, or with a full band, David continues to play, learn, and perform with his Handpans at a European and international scale to showcase the amazing and captivating instrument responsible for the turning point in his musical journey.
To find out more about David, please see Website / Youtube / Facebook / Instagram / Soundcloud / Bandcamp
"Ayasa is a really high handpan quality brand, I love so much to perform with them on stage because they are precise, with good balance/stability and a great sustain. Thank you Ayasa!"
---

---
Lafa