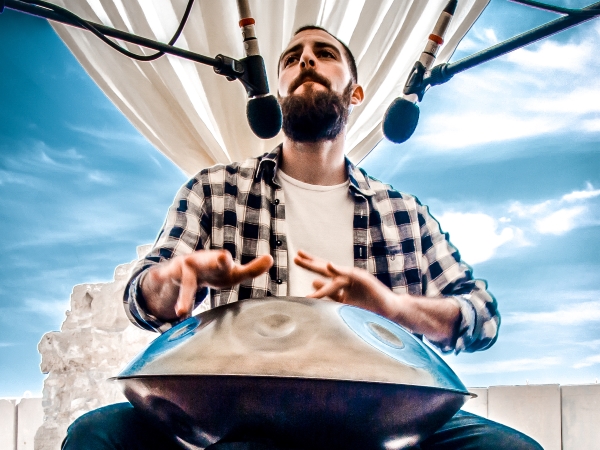 Meet Vasilis
---
Vasilis Vasiliou is a drummer, multi-instrumentalist and composer from Cyprus. After the completion of his undergraduate studies in music, Vasilis is an instructor of drums and percussions at various music centers.
In addition, he is a founder member and the drummer of the World Jazz Trio Tricoolore. Tricoolore has already released two albums, 'Oregano Infused' in 2015 and 'World Without Words' in 2017, and collaborated with renowned musicians. Vasilis has performed in various national and international festivals, concerts and projects in Cyprus, Italy, Germany, Austria, England and Greece.
His first touch with the handpan was in May 2016. One year later, as a music producer, Vasilis works on a solo project which he steps on improvisation and his own fresh melodies in order to built new compositions, while exploring the possibilities of the handpan and expanding its sound horizons by trying out new combinations.
Vasilis uniquely combines the handpan with the grooves of other rhythmic percussion creating a mesmerising, playful and uplifting soundscape at the same time. In the summer of 2017, he went on a Eurotrip as a solo traveler, playing on the streets of Belgium, the Netherlands, Germany, Austria, Italy, Switzerland, Luxembourg and France
Through this experience, the handpan was acting as the connection between him and the random audience that had the opportunity to meet with this instrument.
To learn more about Vasilis, please see Website / Youtube / Facebook / Instagram / Twitter
"During my twentyone-day Eurotrip, I had the opportunity to visit Ayasa maker shop. For the first time in my life I found myself in a place with so many handpans… I had to try them all. The rich frequencies, the clarity of sound, the duration.. I was hitting a note and the note came to life. After I chose my handpan, I made a draft recording which I was later listening everyday until my handpan arrived in Cyprus.

Since then, every time I play I get as excited and impressed as I did the first time. I cannot wait for my second Ayasa. I admire Ralf for his amazing work and his ability to give such a beautiful voice to a piece of steel."
---
Carol of The Bells